TOSA INU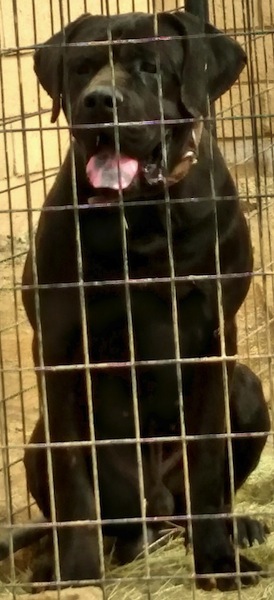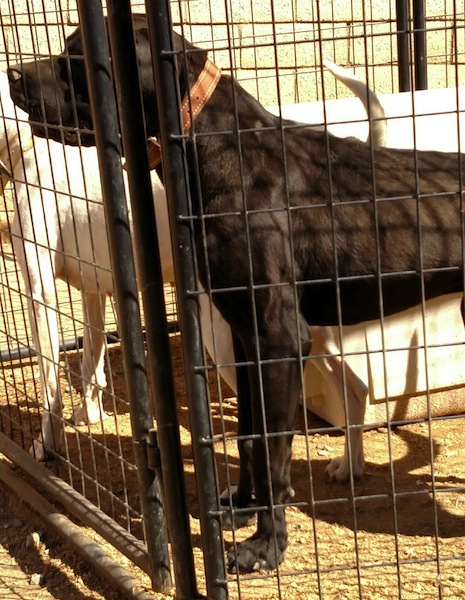 THIS YOUNG PUP WAS BRED BY ME, HE CAN ALREADY MOVE EXTREMELY WELL, AND IS VERY ATHLETIC. I CANT WAIT TO SEE HOW HE DEVELOPS. IF HE PERFORMS THE WAY I THINK HE WILL HE WILL BE PART OF MY PROGRAM.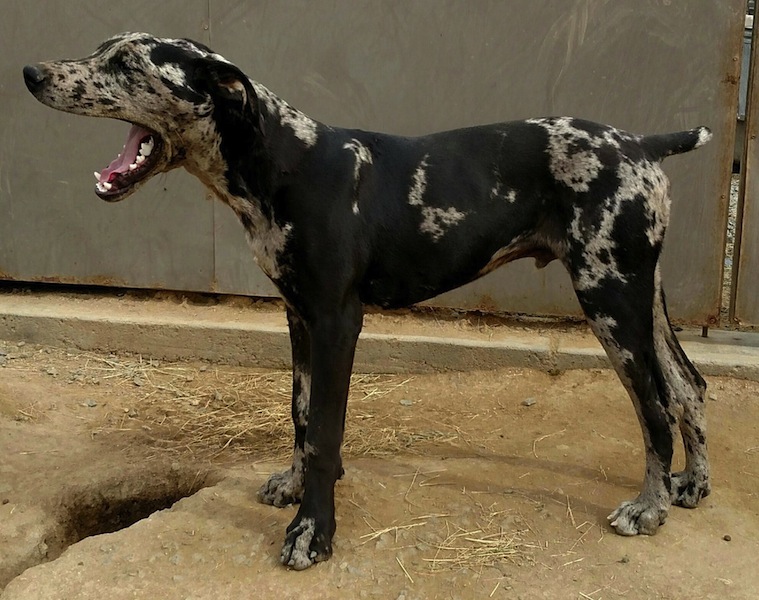 CENTRAL ASIAN SHEPHERD FEM PUP. HER FATHER WAS IMPORTED FROM RUSSIA. THESE DOGS ARE ONE OF THE FEW DOGS STILL ACTIVELY DOING WHAT THEY WERE CREATED FOR. THEY ARE HIGHLY PROTECTIVE AND WILL NOT HESITATE TO ENGAGE A PREDATOR OR INTRUDER. THE WILL TO PROTECT IS GENETICALLY PROGRAMED INTO THESE DOGS. THEY ARE NOT SPORT DOGS THEY ARE VERY SERIOUS DOGS, ATHLETIC, BIG AND HAVE THE POTENTIAL TO BE DANGEROUS IF NOT PROPERLY TRAINED.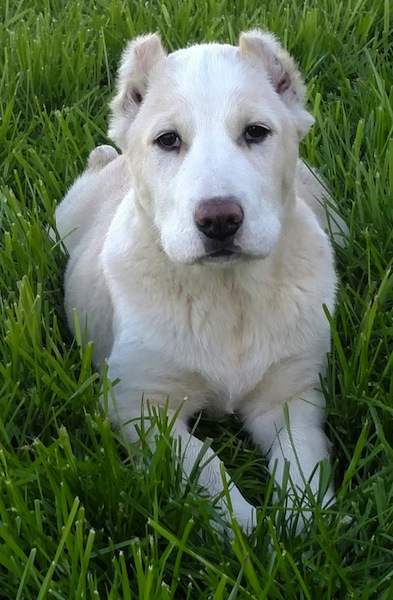 SOUTH AFRICAN BOERBOEL(IMPORTED FROM SOTH AFRICA)...I KNOW PEOPLE IN SOUTH AFRICA THAT GO TO BED EVERY NIGHT AND EXPECT THESE DOGS TO KEEP THEM AND THIER FAMILIES SAFE, DAY AFTER DAY(THEY ALSO HAVE ELECTRICAL FENCING AROUND THIER HOUSE'S). THERE ARE FOUR DIFFERENT TYPES OF BOERBOEL. THIS IS THE TYPE I LIKE. HIS CONFORMATION FITS INTO WHAT I EXPECT BIG DOGS TO DO. I RAN THIS DOG TWO STRAIGHT DAYS IN VERY STEEP MOUNTAINS WITH A CUR DOG AND I WAS AMAZED AT HIS ENDURANCE AND THE WAY HE MOVED IN THE MOUNTAINS.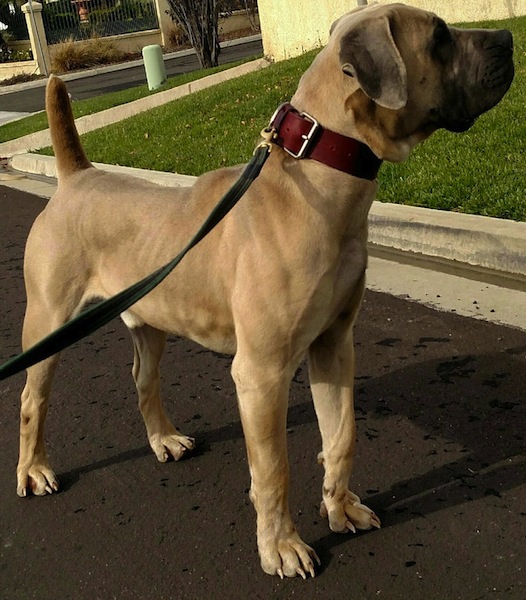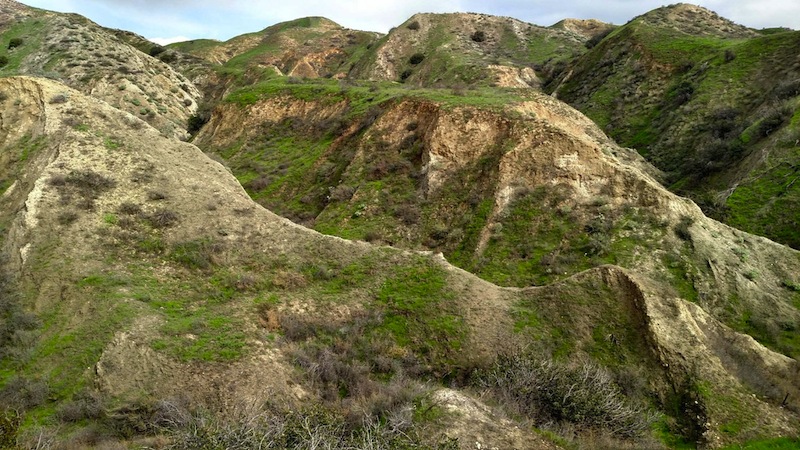 THIS TOSA IS A HARD HITTING BIG DOG. WHEN HE GETS THERE HOGS ARE STOPPED. THERE IS NO B.S. STRAIGHT UP "CAUGHT HOG"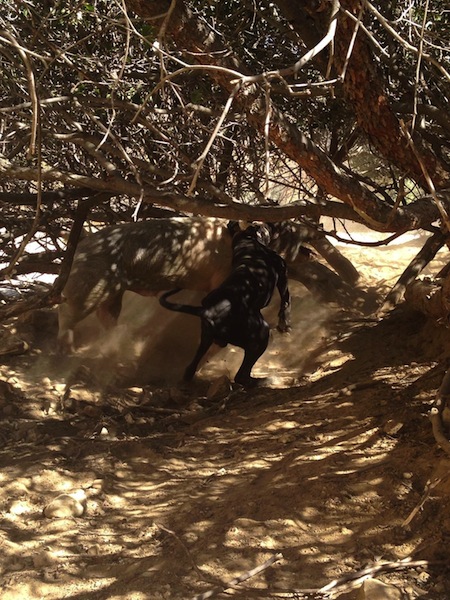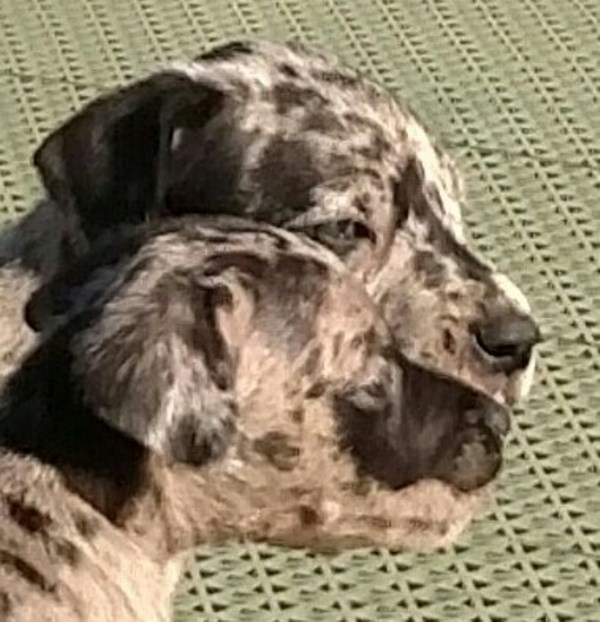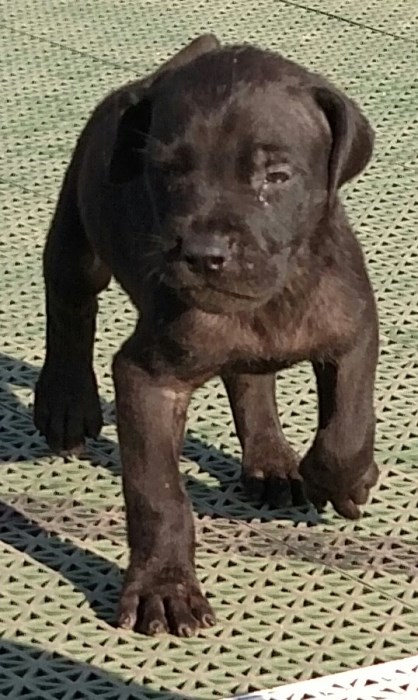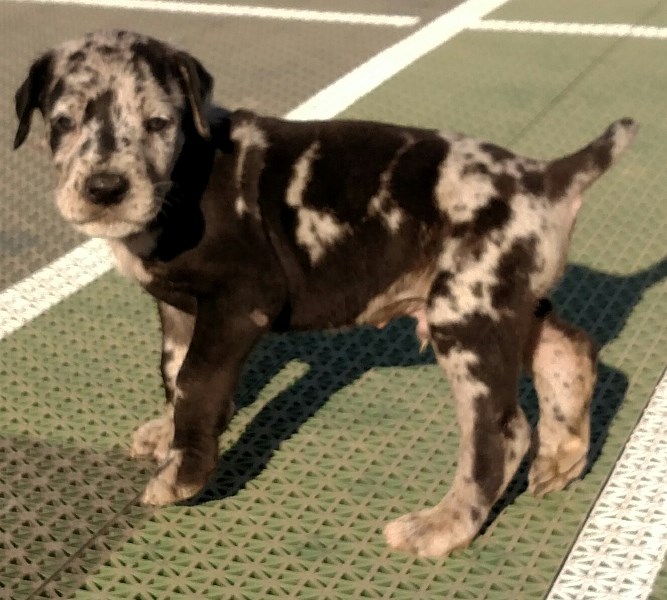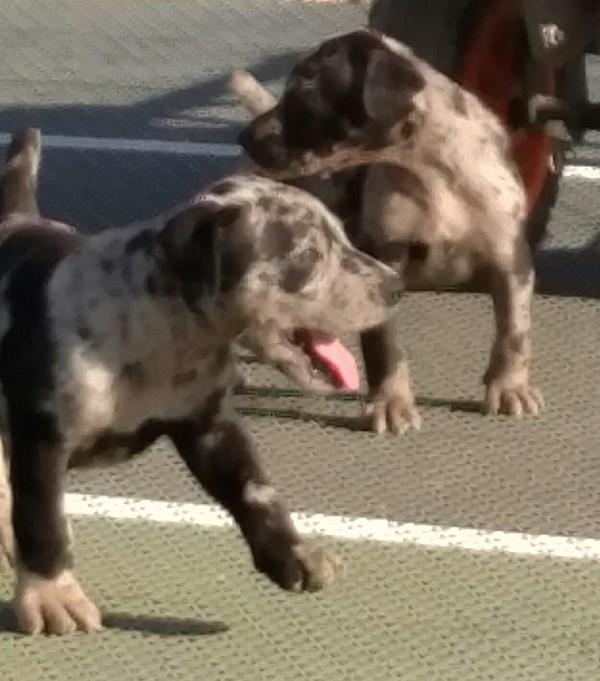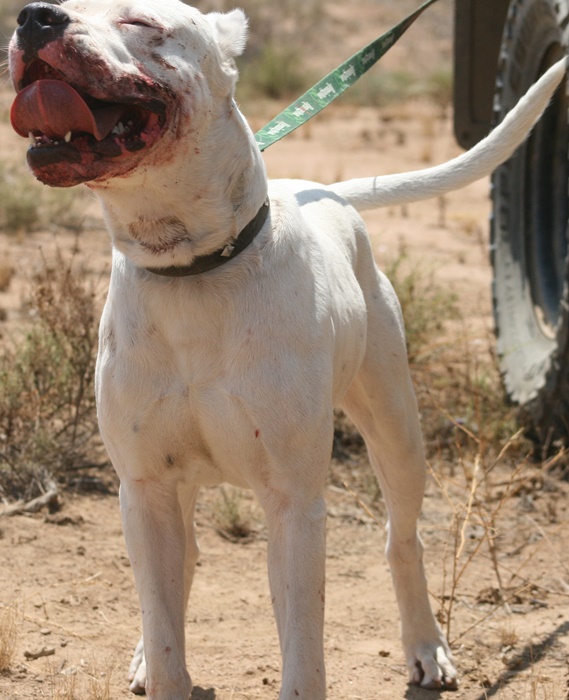 MOST OF YOU KNOW THAT I ADMIRE ALL WORKING DOGS. I HAVE ALWAYS LOVED THE MASTIFF BREEDS. THE PROBLEM IS , MOST LOOK LIKE DEFORMED "BLOBS" ON FOUR LEGS. SOME DON'T EVEN LOOK LIKE DOGS. THEY HAVE BECOME VICTIMS OF THE AKC AND OTHER REGISTRISTRATION CLUBS. THE HEALTH ISSUES ARE ENDLESS.
THIS GREAT DANE IS THE BIGGEST DOG I HAVE EVER OWNED. HE IS CATCHING HOGS AND MAKING IT LOOK EASY. HE IS ALSO A GREAT GAURD DOG.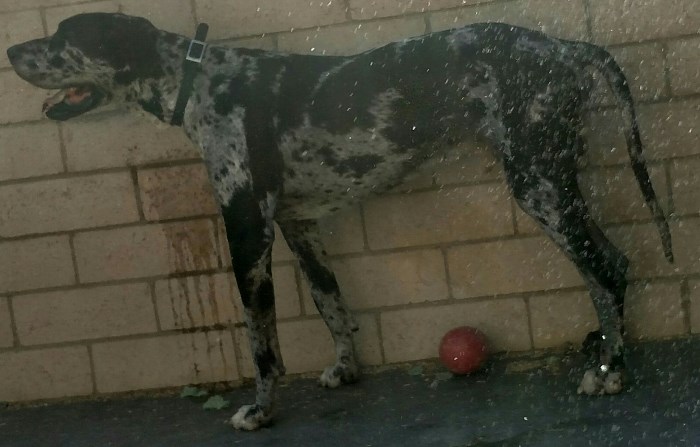 GREAT DANE CATCHING HIS FIRST HOGS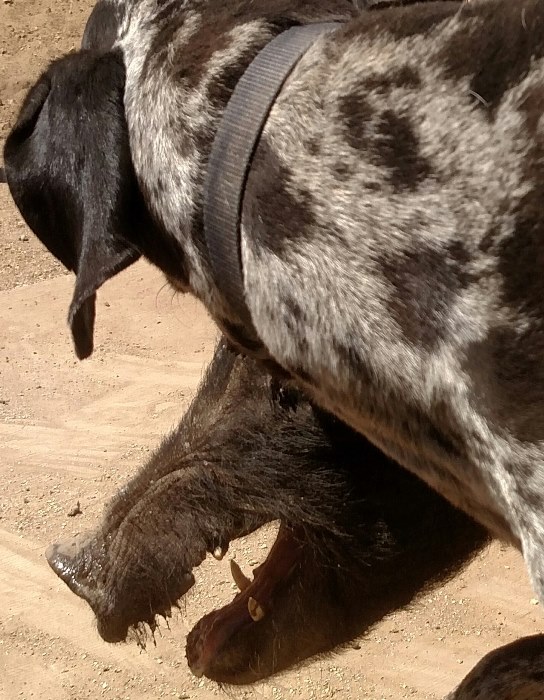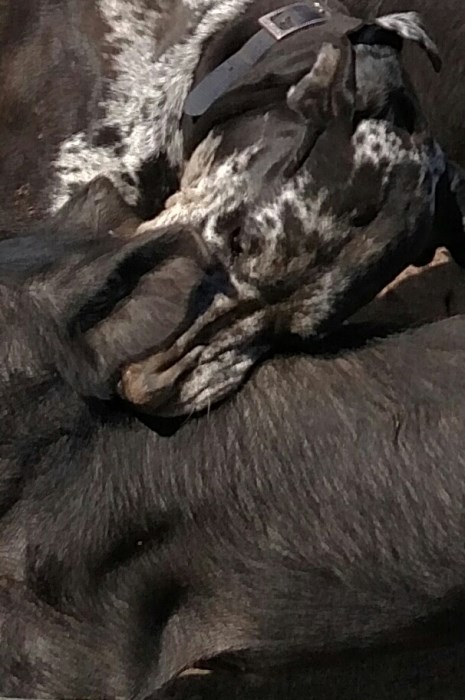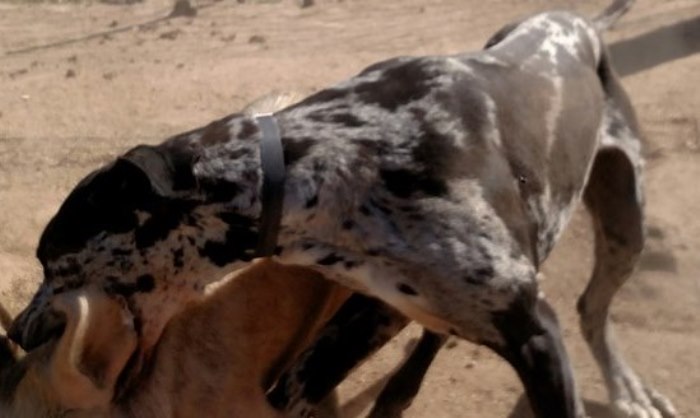 THIS TOSA IS AN EXTREME ATHLETE, HE HAS BEEN BRED TO A DOGO.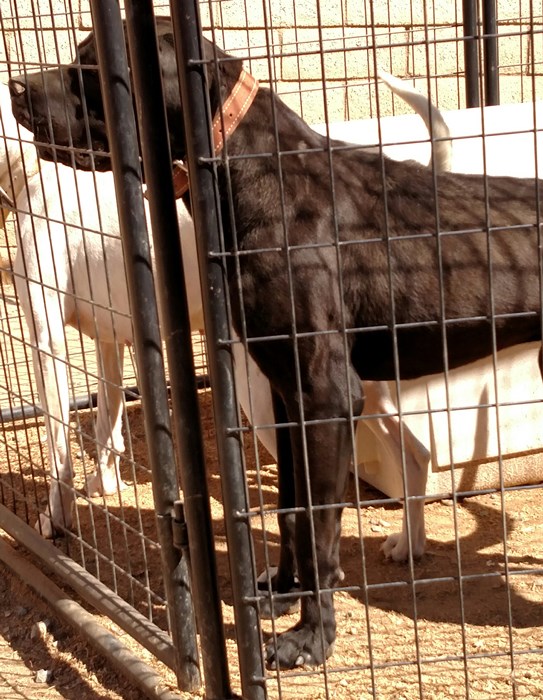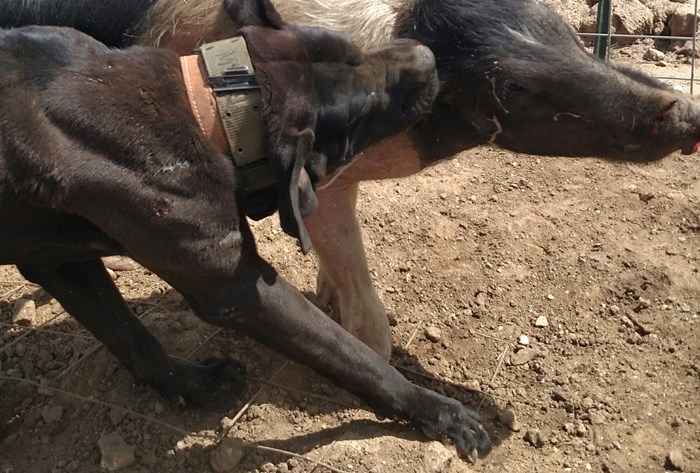 TOSA'S FIRST TIME EVER SEEING A PIG.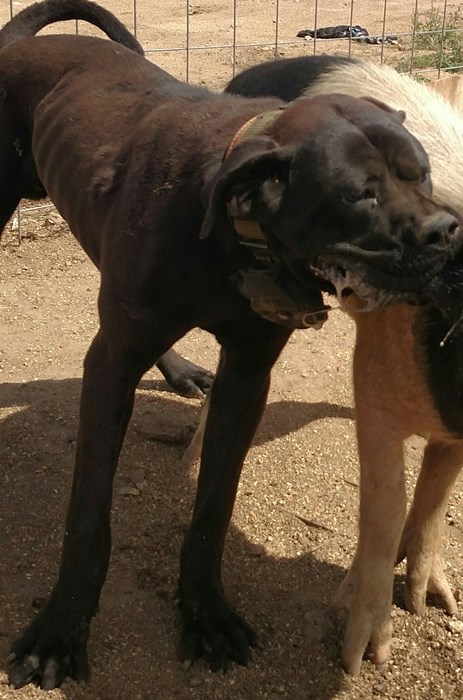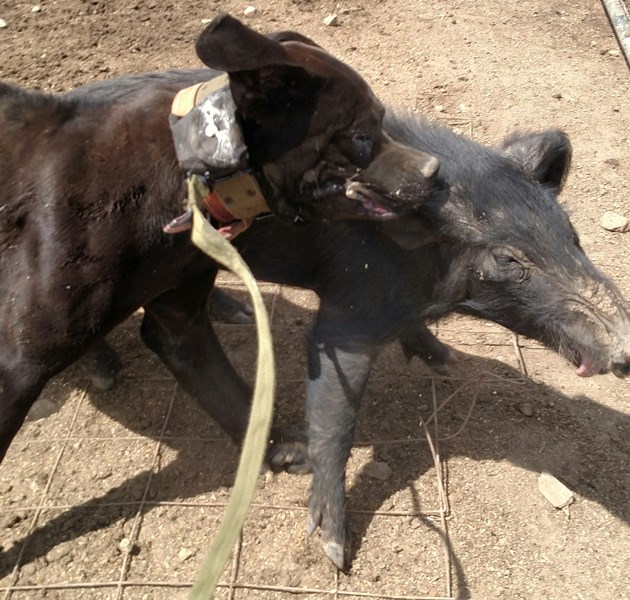 THIS MASTIFF X IS VERY CIVIL IN MAN WORK AND IS A STRAIGHT HEAD DOG ON HOGS(HE IS OVER 100LBS). HE CAME DOWN FOR SOME TRAINING AND IS BACK AT MY BUDDIES HOUSE.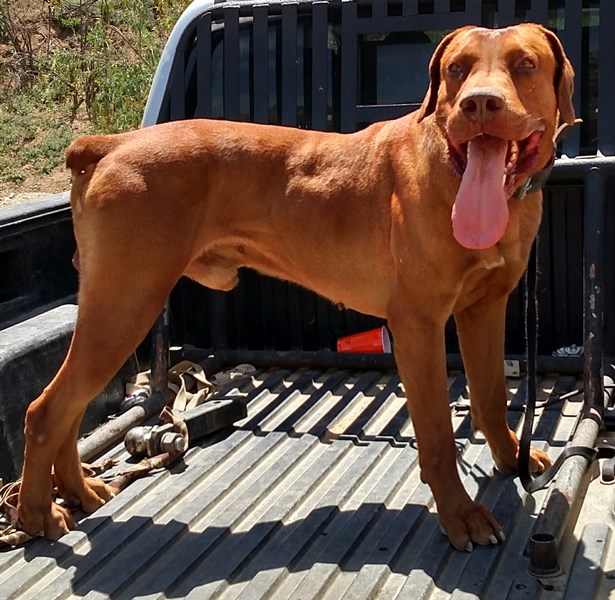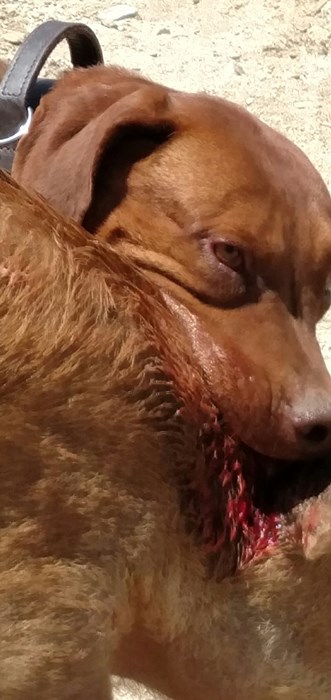 THIS WAS HIS FIRST TIME EVER SEEING A PIG.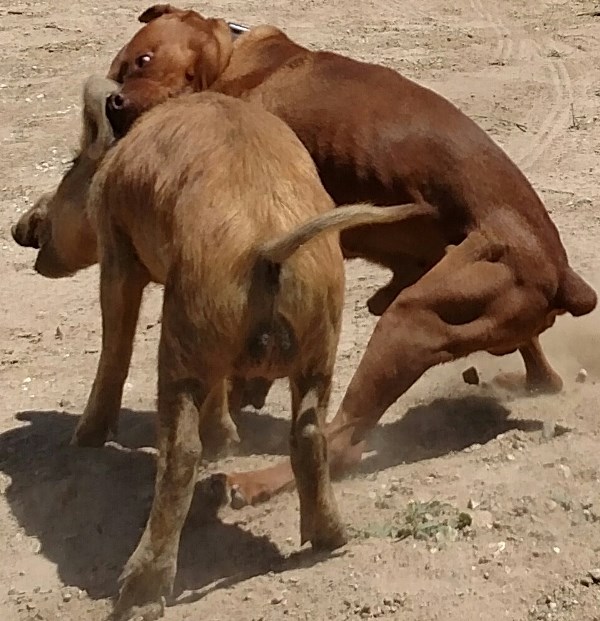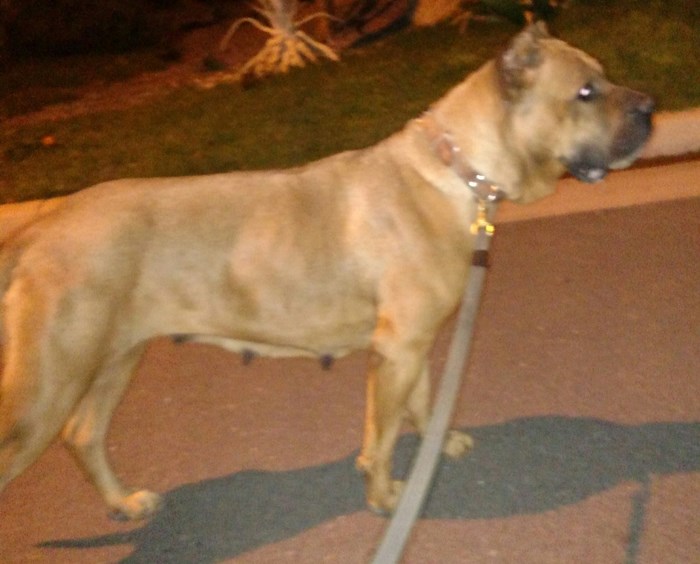 WHAT AM I WANTING?? A DOG THAT HAS THE SPEED, ENDURANCE, ATHLETISISM, HEAT TOLERANCE OF A REAL DOGO. THE HARDNESS OF A GAME BRED PITBULL(REAL PITBULL). THE CONSISTENCY OF A REAL WORKING AM BULLDOG(NOT GIANT BASHED IN FACE SNORING TYPE). THE SIZE AND PROTECTIVENESS OF A GOOD MASTIFF, AND AN OFF SWITCH, THE DOG HAS GOT TO LOVE KIDS, AND FAMILY MORE THAN ANYTHING(AND BE READY TO DIE FOR THEM). AND NEVER GIVE UP UNDER ANY CIRCUMSTANCES IF THE DOG IS ASKED TO CATCH RANK HOGS OR STOP AN INTRUDER.
I GOT THIS FEM MASTIFF CROSS AND I AM NOW IN THR PROCESS OF CONDITIONING HER. I STARTED HER WITH 3 MILE RUNS WITH A MOUNTAIN BIKE AND SHE COMES HOME LIKE SHE NEVER LEFT THE YARD, BOUNCING AROUND AND READY TO PLAY. HER ENDURANCE IS INCREDIBLE FOR A DOG HER SIZE.
SOME OF THE DOGS ON THIS PAGE HAVE ALREADY BEEN ELIMINTATED FROM MY PROGRAM. AFTER FURTHER TESTING AND EVALUATION THEY DID NOT MEET UP TO MY STANDARDS AND TESTS. THEY WERE FIXED AND GIVEN AWAY TO FRIENDS THAT LOVE THEM.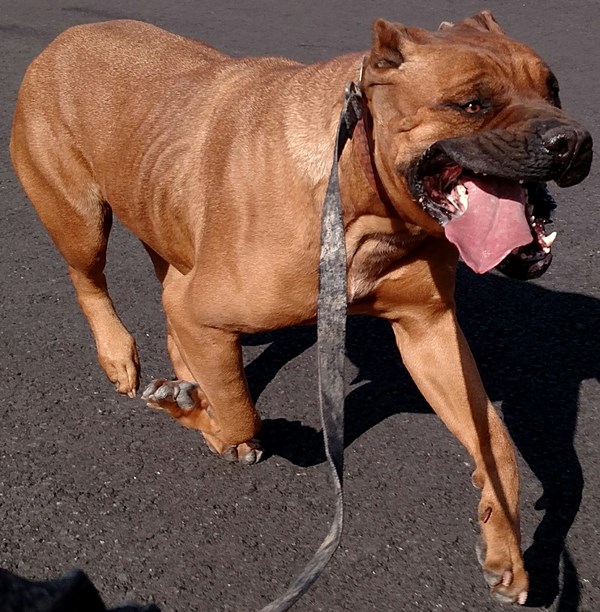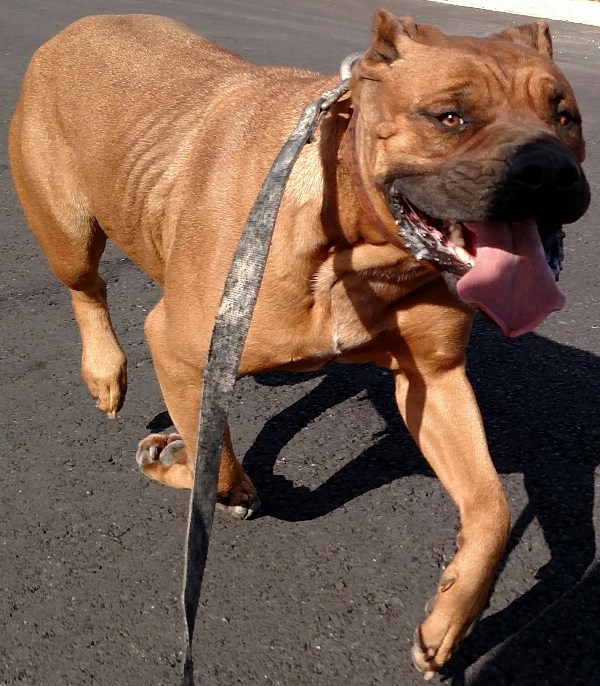 MANY PEOPLE THINK BECAUSE A DOG IS A "DOGO"(ARGENTINE MASTIFF) AND THE DAD WAS A FAMOUS INTERNET DOG OR BECAUSE THE DOGO WAS IMPORTED, IT WILL CATCH HOGS. I HAVE HAD DOGOS FOR 26 YEARS AS OF 2016. I HAVE SEEN MORE DOGOS THAN I CARE TO REMEMBER BAY HOGS AND NOT CATCH(BOTH IMPORTED AND DOGOS FROM FAMOUS KENNELS FROM AROUND THE WORLD). THE GOOD ONES ARE ONE OF THE BEST CATCH DOGS YOU WILL EVER SEE. BUT THE GOOD ONES ARE HARDER TO FIND THAN A GOOD AMERICAN BULLDOG OR PITBULL. WHEN I SAY "GOOD" I MEAN A DOG CATCHING WILD HOGS THAT CAN GET AWAY. NOT HOGS IN AN ENCLOSURE, AND DOGS THAT WILL TAKE DAMAGE AND NOT LET GO. THE "GOOD ONES" WILL ALSO OUT RUN PITS AND AMERICAN BULLDOGS. THEY WILL ALSO HAVE A MORE EFFICIENT GAIT THAN A PITBULL OR AMERICAN BULL DOG. THE PIT AND AM BULLDOGS ARE MORE CONSISTENT AS FAR AS STARTING EARLY AND CATCH WORK. I HAVE BEEN AROUND WORKING PITBULLS AND AM BULLDOGS FOR 50 YEARS AND DOGOS FOR 26 YEARS. I HAVE SEEN THEM ALL DISPLAY AMAZING GAMENESS AND HANG ON NO MATTER WHAT EVEN DEATH. THATS WHAT I STRIVE FOR NO MATTER WHAT KIND OF DOG IT IS. THE APBT HAS THE MOST "WILLINGNESS TO DIE" ATTITUDE OF ANY BREED OF DOG(THE GOOD ONES DO, I HAVE SEEN A LOT OF CULLS, ESPECIALLY LATELY) THE REAL PITBULLS SIZE BECOMES A MAJOR PROBLEM ON LARGE TALL HOGS. I HAVE SEEN BIG HOGS RUN OFF WITH PITS HANGING ON THEIR EARS LIKE THE DOGS NOT EVEN THERE.
THIS IS WHAT A REAL WORKING DOGO LOOKS LIKE(FEMALE). DOGOS CAN TAKE THE HEAT BETTER THAN ANY OTHER MASTIFF I HAVE SEEN. THEY ARE THE ONLY MASTIFF WHERE RUNNING WAS CONSIDERED DURING THE SELECTIVE BREEDING PROCESS THAT CREATED THE BREED. I KNOW, THE "CANE CORSO" IS CONSIDERED A "COURSING MASTIFF". IT DOESN'T APPEAR TO ME THAT MANY "CORSO" BREEDERS ARE BREEDING DOGS THAT CAN COVER LONG DISTANCES LIKE A GOOD DOGO. I AM NOT BREED BASHING "CORSO'S" I HAVE HAD A FEW GOOD ONES AND HAVE A DOGO X CORSO NOW. AND WILL PROBABLY HAVE MORE IN THE FUTURE. I OLNY TALK OF THE CORSO BECAUSE OF THE "COURSING MASTIFF" PHRASE THAT IS ASSOCIATED WITH THEM.
THE DOGO IS NOT A SUPER DOG AND NO MATTER WHAT YOU HAVE READ AND SEEN ON THE WEB, THEY ARE NOT CAPABLE OF DOING SOME OF THESE WILD STORIES YOU HAVE HEARD ABOUT. I HAVE HAD SOME REALLY GOOD ONES OVER THE YEARS AND WILL ALWAYS HAVE THEM. THE DOGOS I HAVE, DO EXACTLY WHAT A DOGO IS SUPPOSED TO DO. THEY WILL SEARCH, FIND AND SHUT DOWN WILD HOGS(IF THEY DON'T, THEY WILL NOT STAY HERE).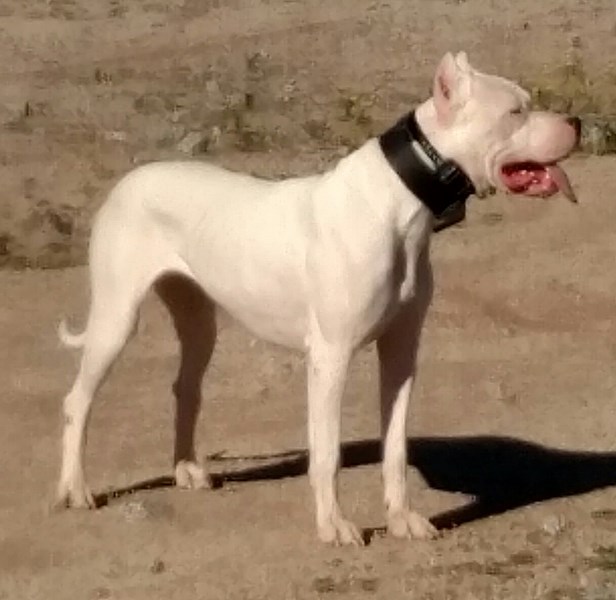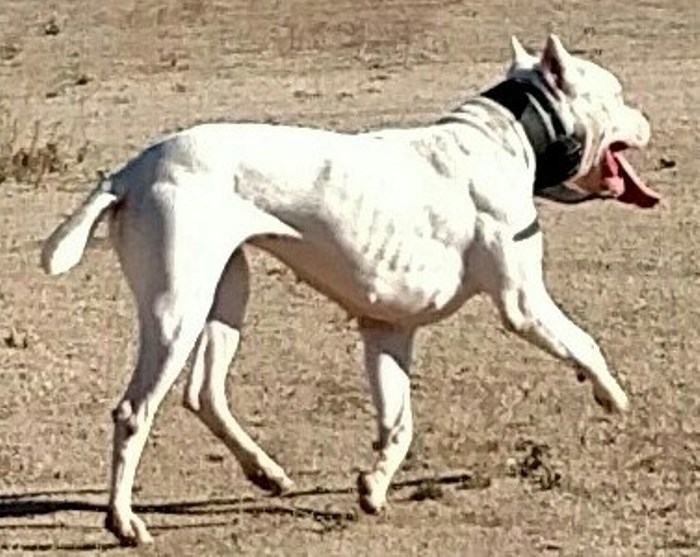 I HAVE VIEWED AND STUDIED MANY PICS, VIDEOS AND WEB SITES AND I MUST SAY THAT I DISAGREE WITH ABOUT 98% OF WHAT PEOPLE ARE CALLING ATHLETIC AND WORKING MASTIFFS.
MOST FOLKS PUT A BITE SLEEVE, ON HAVE A FRIEND TAKE PICS OF THE DOG BITING A SLEEVE, AND "POOF" CLAIM THEY HAVE WORKING MASTIFFS.
I HAVE EXTENSIVE EXPERIENCE WITH DOGS AND BITE WORK. JUST BECAUSE A DOG WILL BITE A SLEEVE DOESN'T MEAN HE WILL DEFEND YOU OR YOUR FAMILY.
I LOVE CHALLENGES, AND I KNOW FOR A FACT I CAN PRODUCE A LINE OF MASTIFFS THAT WILL TRULY BE ATHLETIC, CATCH HOGS, AND PROTECT YOUR FAMILY AND PROPERTY FROM MAN OR BEAST.
AS YOU VIEW THESE PICS YOU WILL NOTICE THAT I HAVE SELECTED DOGS WITH LOTS OF LEG. THIS WAS NO ACCIDENT. I UN LIKE MOST FOLKS I EXPECT THESE DOGS TO BE ABLE TO RUN IN THE MOUNTAINS AND I WANT THEM TO BE FAST ENOUGH TO CATCH HOGS IF THEY BREAK AND TO BE ABLE TO COVER LONG DISTANCES IF NECESSARY.
EVERY MASTIFF HERE HAS GOT TO CATCH HOGS AND HANG ON NO MATTER WHAT. NO RE-GRIPPING, AND NEVER EVER LET GO!!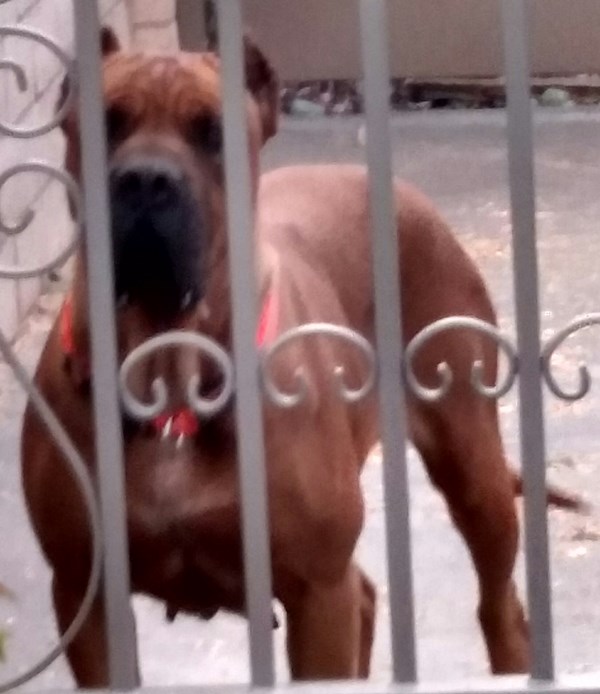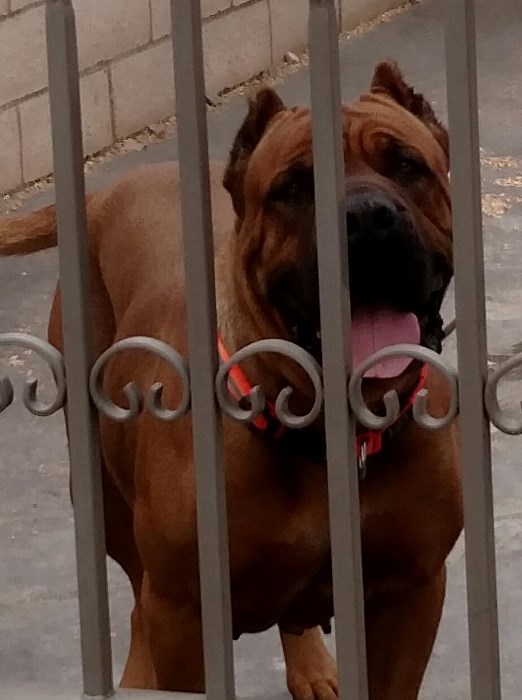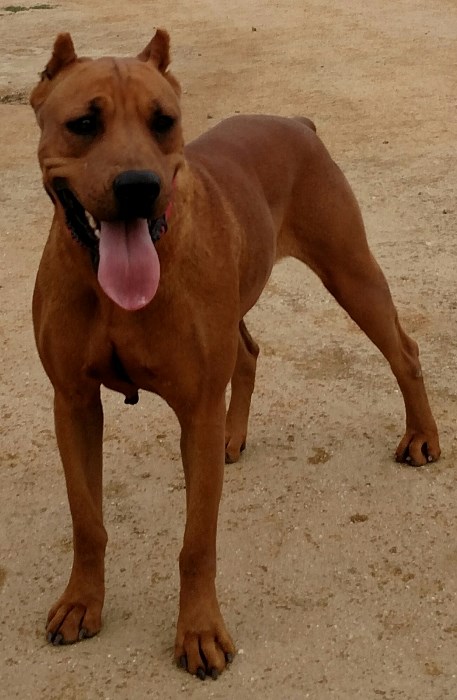 BAD PIC OF A REALLY GOOD DOG. PIC MAKES HER LOOK SHORTER THAN SHE REALLY IS.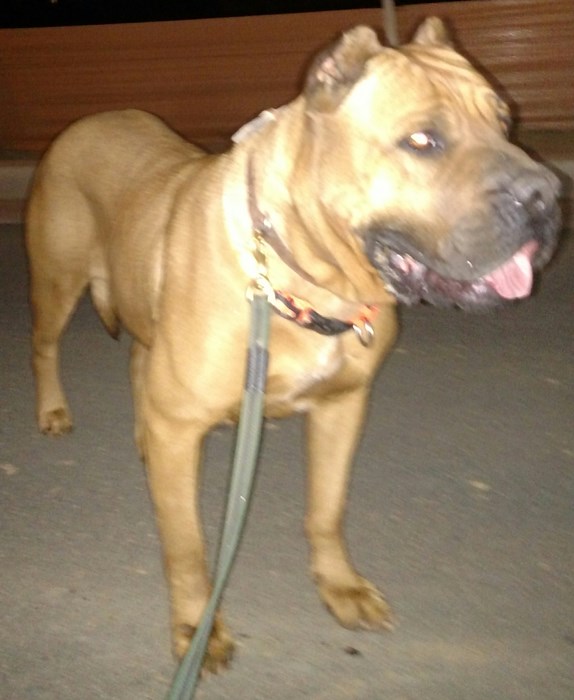 THIS BLACK TOSA PUP HAS OUTSTANDING NERVES. MOVES GREAT, AND HAS EXTREMELY HIGH PREY DRIVE(9 MONTHS OLD IN PIC). HE HAS GREAT GENETICS, I HAVE NOT BEEN ABLE TO START CONDITIONING HIM YET DUE TO HIS AGE. HE WILL BE AN AMAZING SPECIMEN WHEN HE IS FULLY GROWN.
"KAMIKAZE" (TOSA) ALREADY DOING 250-300 YARD TRACKS.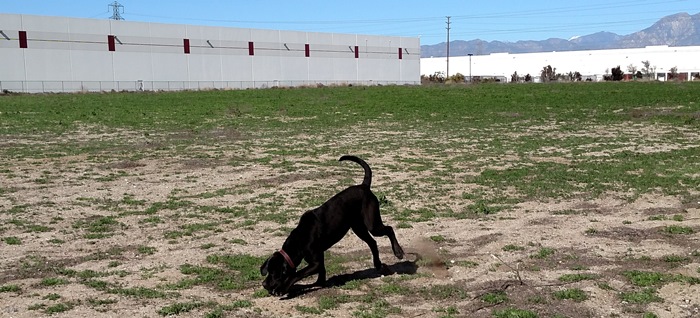 "KAMIKAZE"... HE IS ALREADY TRYING TO FLY INTO EVERYTHING MOVING(9 MONTHS OLD IN PIC).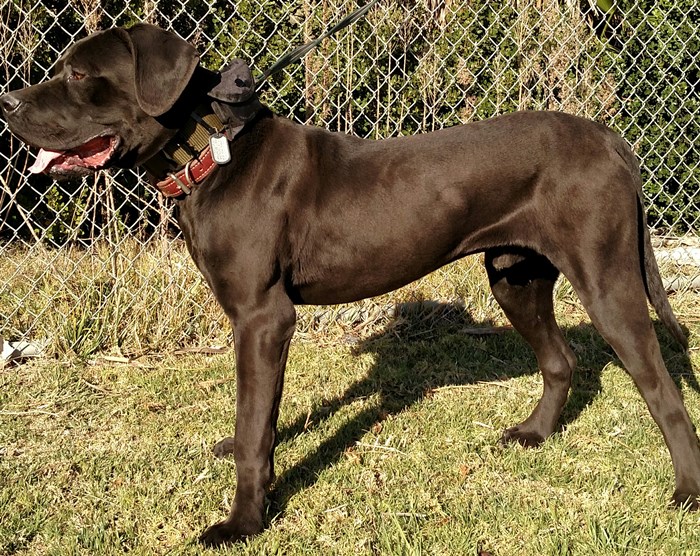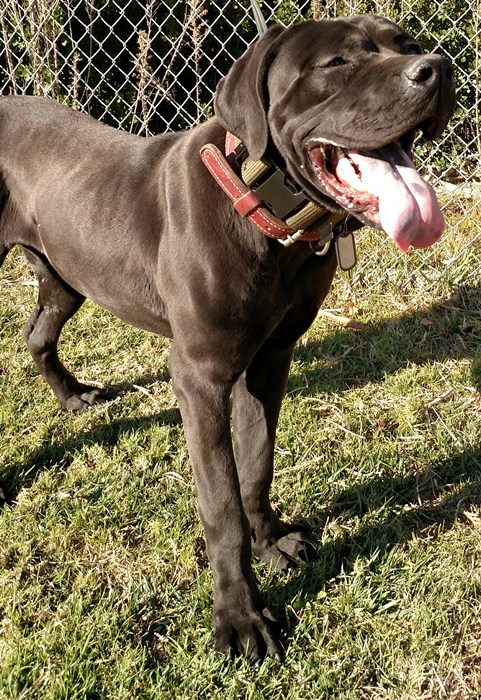 BOTH OF HIS PARENTS ARE IMPORTS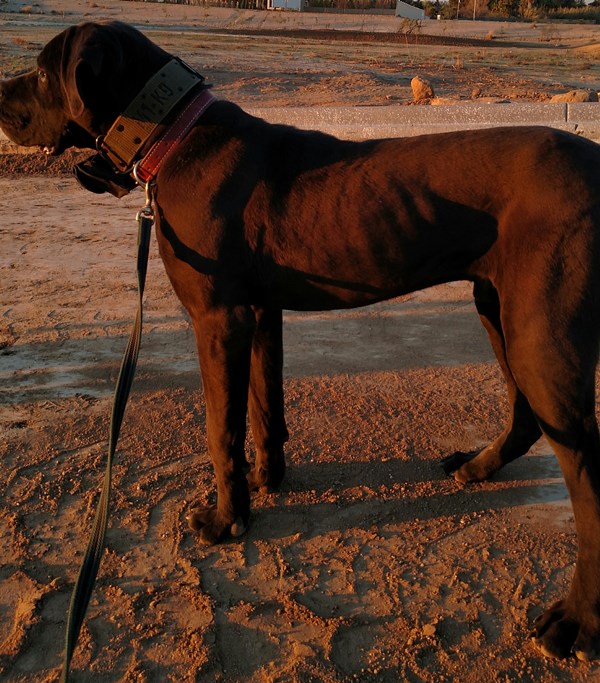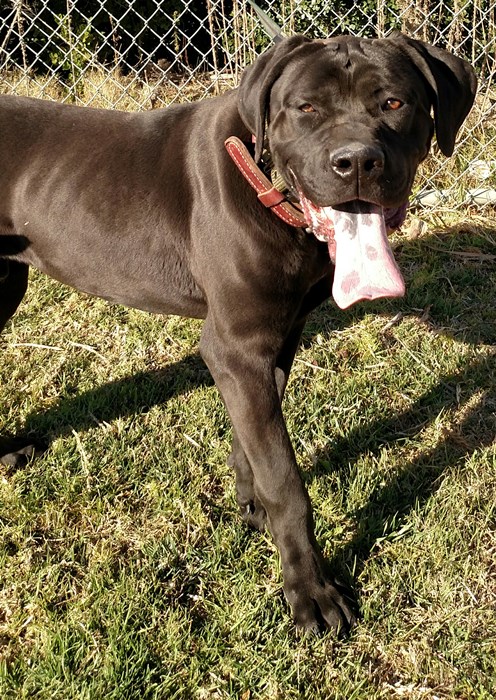 TOSA INU FEMALE IMPORTED BLOODLINES. HARD TO TELL IN PICS, BUT THIS FEMALE TOSA IS TALLER THAN MY DOGO'S.
WHEN I GOT THIS TOSA IT CHANGED THE DIRECTION I THOUGHT I WANTED TO GO WITH MY WORKING MASTIFF PROGRAM. THIS DOG IS A STRAIGHT HEAD DOG AND CAN COMPLETELY CONTROL BIG HOGS BY HERSELF. SHE WORKS IN COMPLETE SILENCE, I HAVE ALWAYS ADMIRED THE TOSA BECAUSE I VIEW THEM AS A DOG BRED FOR PERFORMANCE AND THEY ARE THE ONLY MASTIFF STILL TESTED ON A REGULAR BASIS FOR PERFORMANCE, AND A DESIRE TO CONTINUE WORKING THROUGH PAIN IN SILENCE(THE TOSA IS THE ONLY WORKING DOG THAT IS DIS-QUALIFIED FOR SCREAMING OUT IN PAIN DURING COMPETITION).
THE BIGGEST CONTRIBUTION THIS PARTICULAR DOG CAN MAKE TO MY PROGRAM IS NOT JUST HER HEART, BUT HER CONFORMATION IS ON PAR WITH DOGS THAT ARE A LOT SMALLER THAN HER. I EXAMINE DOGS FROM HEAD TO TOE WHEN I AM SELECTING DOGS TO BREED. THIS DOGS FEET ARE BETTER THAN MOST DOGS THAT ARE HALF HER SIZE. BECAUSE OF THE ROCKY TERRAIN HERE GOOD FEET ARE VERY IMPORTANT.
THIS IS NOT AN "AMERICANIZED" TOSA, BOTH OF HER PARENTS WERE IMPORTED(BEING BRED TO A REAL WORKING DOGO). SHE HAS SEVERAL "YOKOZUNA'S"(JAPANESE FIGHTING CHAMPIONS) UP CLOSE IN HER PEDIGREE.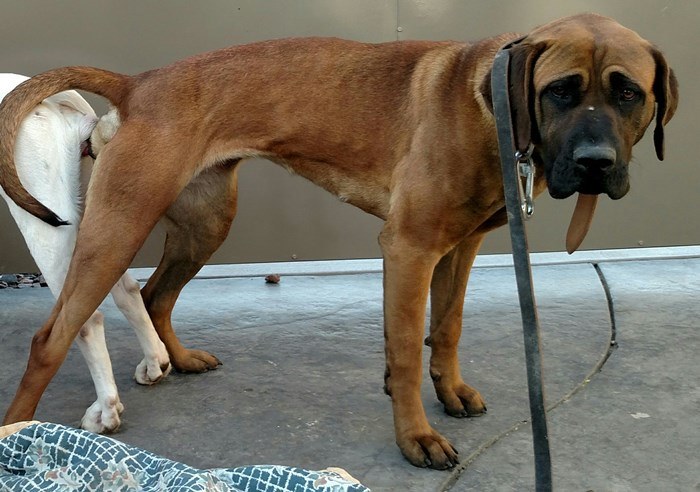 I EXPECT THE PUPPIES OUT OF THESE TWO DOGS TO BE AMAZING WORKING DOGS"!!!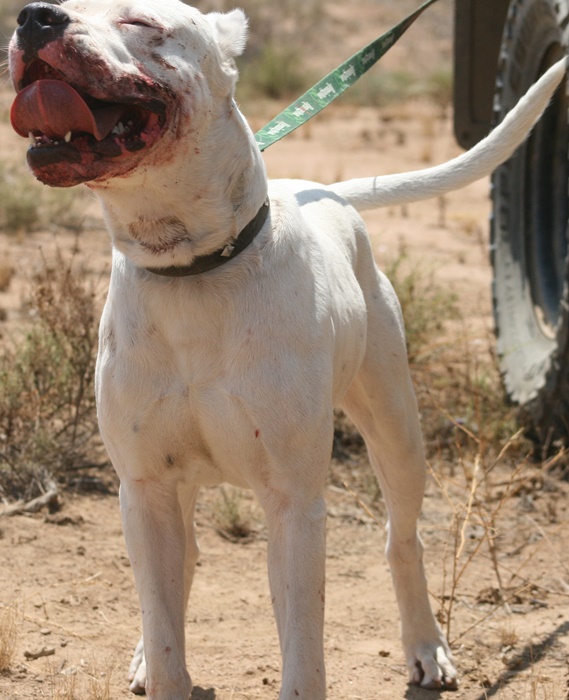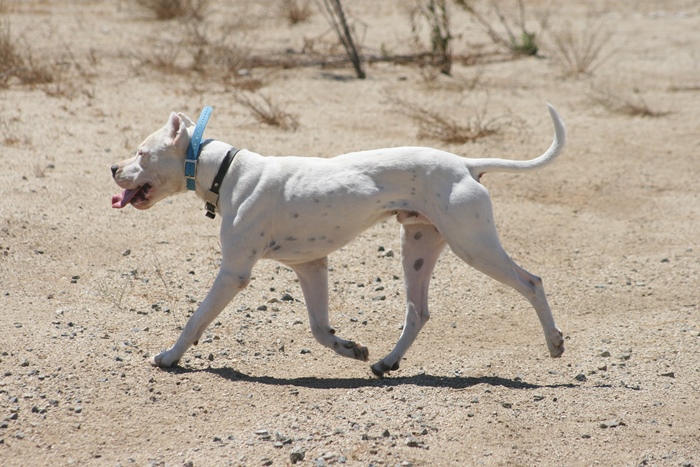 A LOT OF MASTIFF'S HAVE BAD FEET AND SPLAYED TOES. A LOT OF THESE DOGS ARE ABLE TO PERFORM VERY WELL AT BITE WORK BECAUSE MOST PROTECTION TRAINING IS DONE ON GRASS. IF YOU BRING THOSE FLAT FOOTED SPLAYED TOED DOGS OUT TO THESE ROCKY MOUNTAINS WITHIN 5 MINUTES THIER FEET WILL LOOK LIKE THEY WERE IN A BLENDER. I KNOW THIS BECAUSE I HAVE SEEN IT EVEN WITH DOGS HALF THE SIZE OF THESE DOGS. BAD FEET OUT HERE IS LIKE TRYING TO RUN A MARATHON IN HIGH HEELS. THERE IS A REASON PEOPLE SELECT RUNNING SHOES AND NOT HEELS TO RUN IN. DOGS ARE LIKE US THEY NEED THE PROPER EQUIPTMENT FOR THE JOB.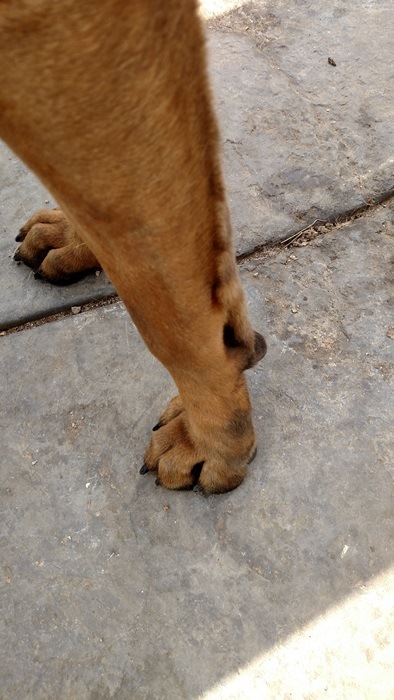 THIS GIRLS ENDURANCE AND THE WAY SHE MOVES OVER ROUGH TERRAIN IS AMAZING FOR A DOG THIS SIZE.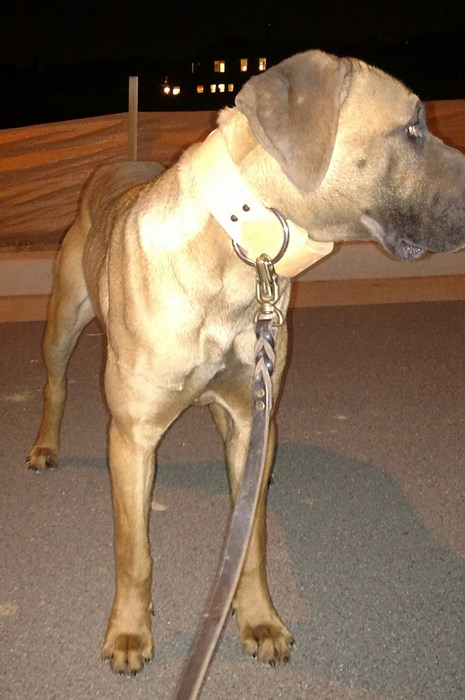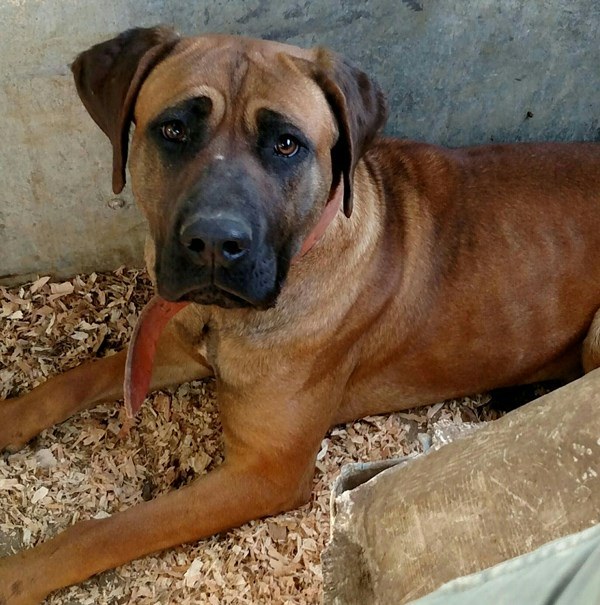 THIS DOG IS VERY QUITE AND CALM AROUND THE HOUSE, IF SHE BARKS I GET UP TO SEE WHY. I LOVE THE "ON-OFF" SWITCH THIS DOG HAS. WHEN IT IS TIME TO WORK IT'S LIKE IM LOOKING AT A COMPLETELY DIFFERENT DOG.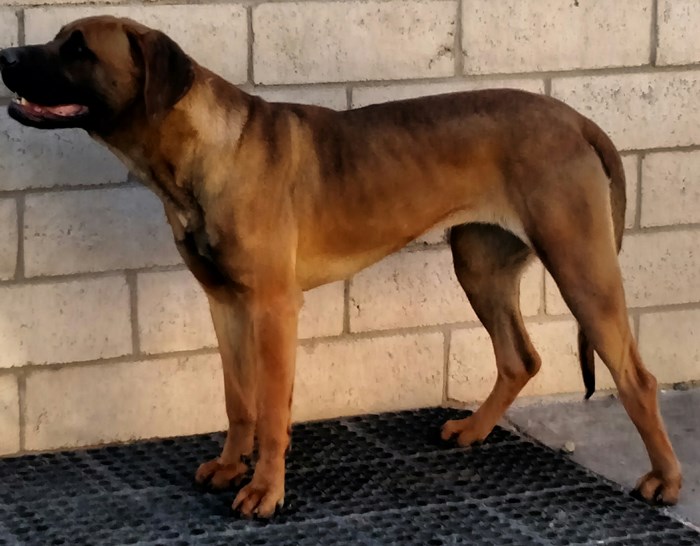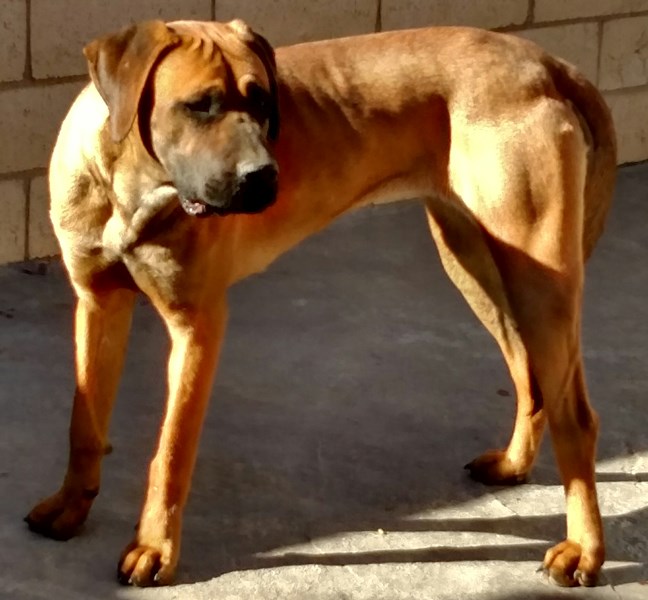 I TRAINED THE TWO DOGS BELOW AND DECIDED NOT TO USE THEM IN MY MASTIFF BREEDING PROGRAM. I GAVE THEM TO A GOOD FRIEND AND HE IS CATCHING VERY NICE HOGS WITH THEM.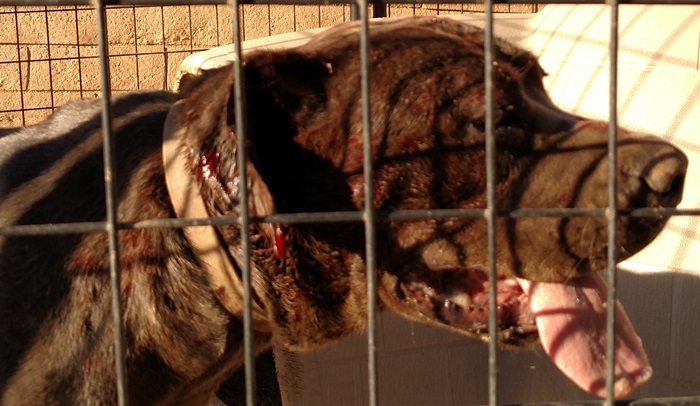 BOTH OF THESE DOGS ARE UNDER A YEAR OLD IN THESE PICS.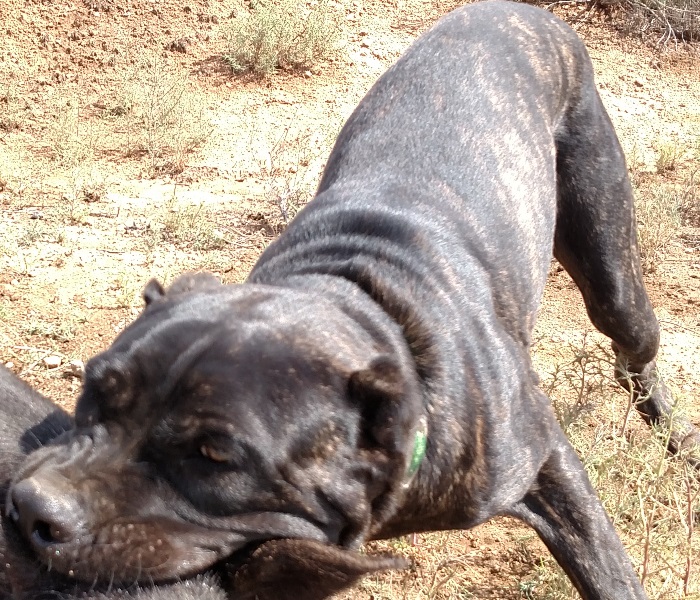 THIS DOG BITES THIS FULL EVERY TIME, NO MATTER HOW BIG A BOAR IS.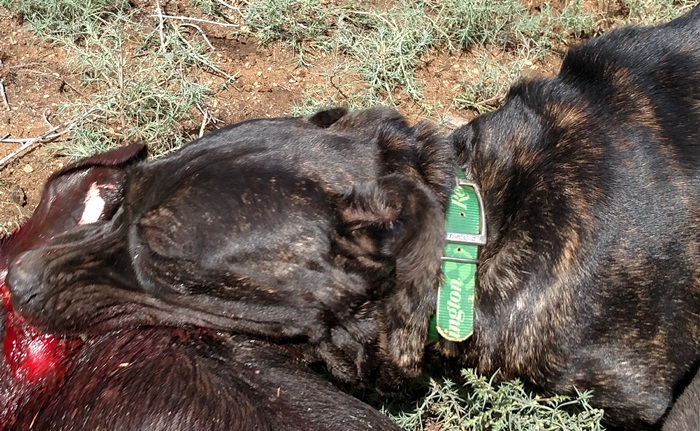 MALE (THIS DOG CAN RUN AND MOVES LIKE A DOG HALF HIS SIZE)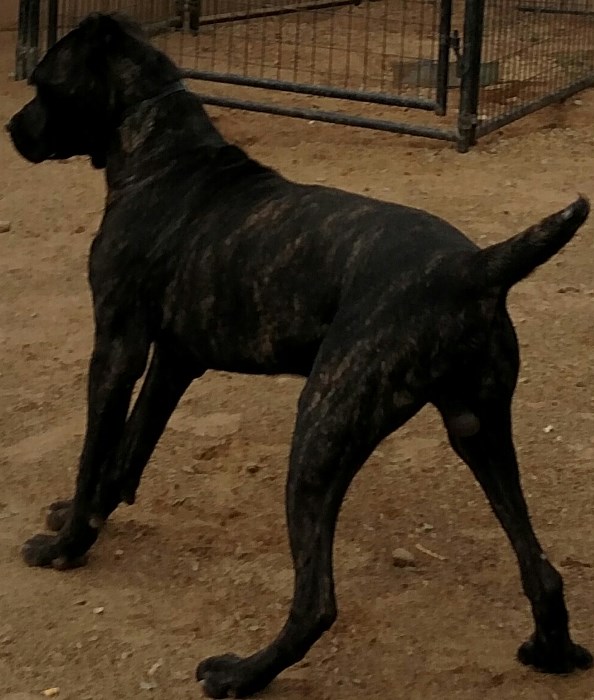 HE GENETICALLY BITES FULL EVERY TIME, AND CAN JUMP 6' HIGH FENCES/WALLS.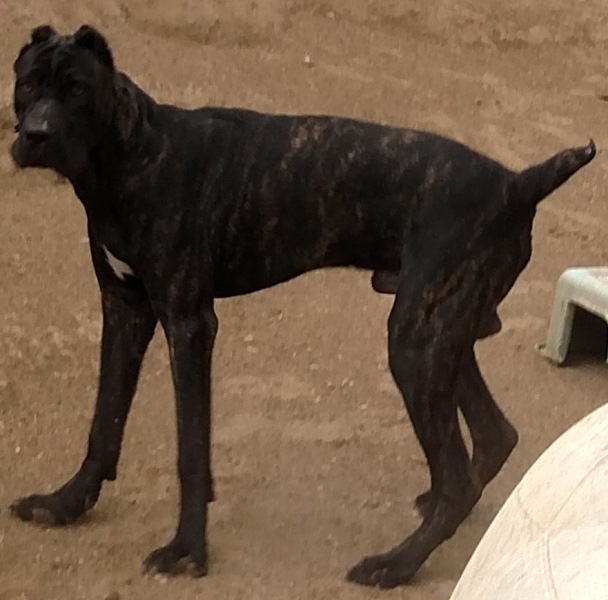 BLUE BRINDLE FEM(SHE WAS FIXED AND GIVEN AWAY TO A FRIEND). IT HAS TAKEN ME MANY YEARS TO FIND EXACTLY WHAT I WAS LOOKING FOR IN MASTIFFS. I TRIED MANY AND NONE HAD THE RIGHT PHYSICAL AND MENTAL MAKE UP TO DO WHAT I WANTED THEM TO DO.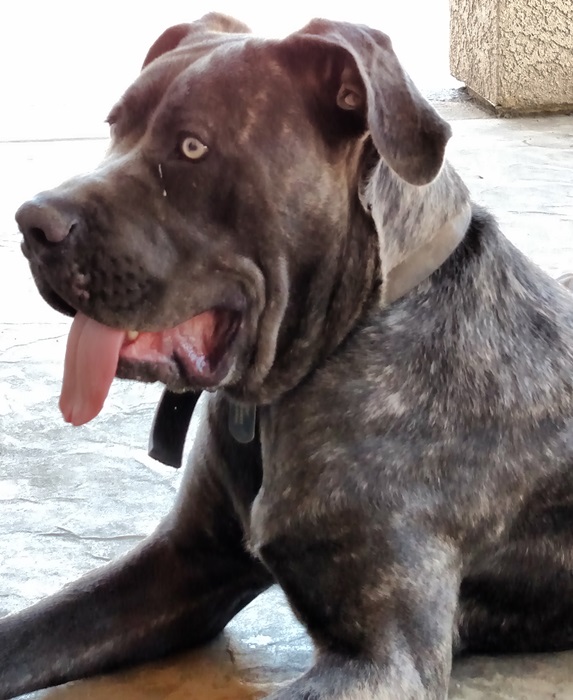 I HAVE TESTED THEIR ENDURANCE AND HEAT TOLLERNCE.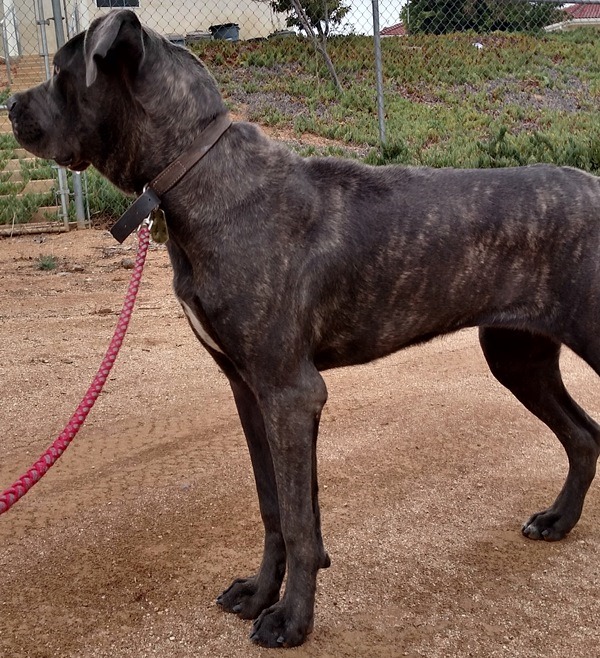 I HAVE BEEN TRAINING AND WORKING THESE DOGS FOR MONTHS NOW. THEY BOTH BITE FULL EVERY TIME AND HAVE VERY HIGH PAIN THRESHOLDS.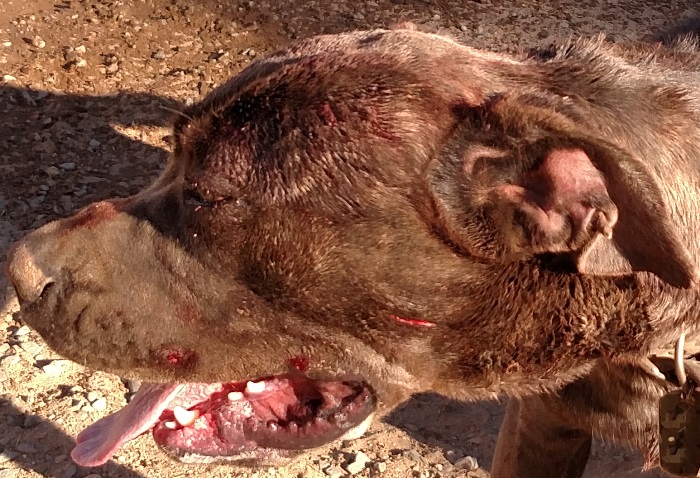 ANYONE OUT THERE EVER TRY TO ROAD A MASTIFF WITH YOUR TRUCK?..LOL..WELL I CAN ROAD THESE TWO IN THE MOUNTAINS! IT WAS 89 DEGREES ON THIS DAY. MOST MASTIFFS I HAVE TRIED TO ROAD ON THE SAME EXACT ROAD COULDN'T COMPLETE THE RUN. MOST WERE TO EXHAUSTED AND THE OTHERS PADS BROKE DOWN AND I HAD TO PUT THEM BACK IN THE TRUCK. THESE TWO MADE THE DISTANCE IN THE HEAT WITHOUT ANY TORN PADS.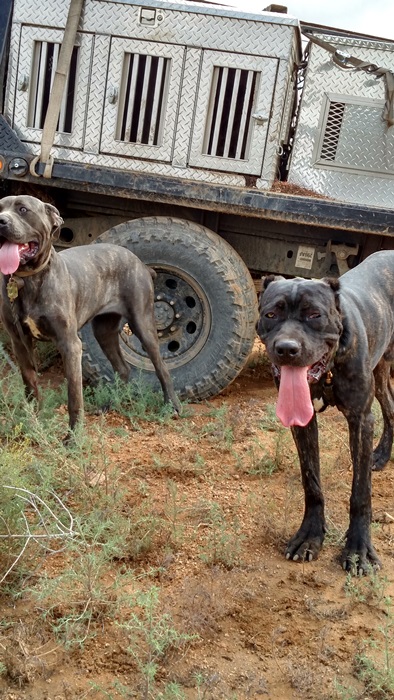 IF THESE DOGS BARK AROUND THE HOUSE, YOU BETTER GET UP. SOMETHING IS WRONG. THEY ARE VERY QUITE DOGS AROUND THE HOUSE. THEY ARE VERY PROTECTIVE WITHOUT ANY TRAINING THEY WILL BARK AT STRANGERS.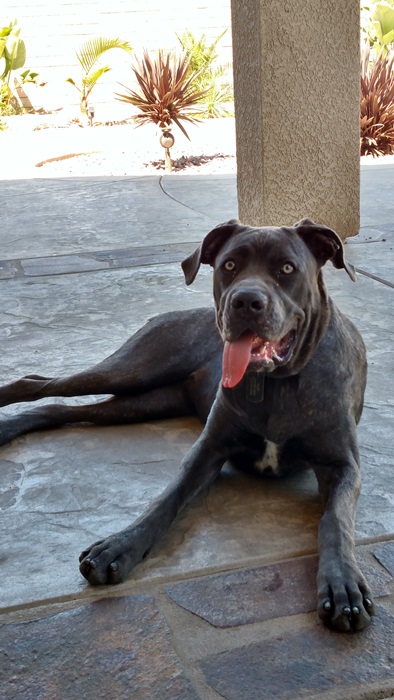 MOST FOLKS ADD TO MUCH "NEO" BLOOD AND THERE GOES THE ATHLETICISM.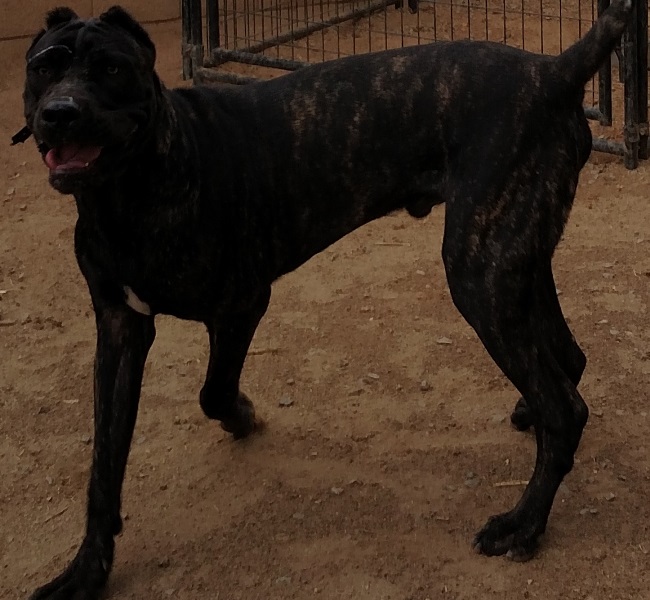 BOTH OF THESE DOGS ARE VERY STABLE AND HAVE NEVER KNOCKED A CHILD DOWN OR JUMPED ON A KID DESPITE THEIR LARGE SIZE, THEY ARE VERY GENTLE WITH KIDS.