About Me
I HAVE HUNTED WITH DOGS MY ENTIRE LIFE.
THE GOOD THING ABOUT MY SITE IS YOU DONT HAVE TO CALL ME AND ASK IF I HUNT MY DOGS. I LEARNED A LONG TIME AGO SOME DOG BREEDERS WILL TELL YOU WHAT THEY THINK YOU WANT TO HEAR(SO THEY CAN TAKE YOUR MONEY) ALSO KNOWN AS, TELLING LIES!!. PLEASE DONT CALL AND ASK ME ABOUT OTHER BREEDERS DOGS, THATS BETWEEN YOU AND THEM. MY ADVISE IS TO ASK A LOT OF QUESTIONS AND ASK FOR PROOF. IT IS 2014, EVERYONE HAS A CAMERA OF SOME SORT. IF WHAT THEY TELL YOU IS TRUE THEY SHOULD HAVE NUMEROUS PICTURES OF THE DOGS DOING WHAT THEY SAY OVER AND OVER AGAIN. THERE ARE ALWAYS A LOT OF PICTURES OF DOGS AT DOG SHOWS.
I am not a puppy mill that has pups all year long. I am a hunter first. I only keep enough dogs to personally hunt with. I do not make my living breeding dogs. I hunt with Patterdale Terriers, Argentine Dogos and Jagdterriers(these three breeds for about 20yrs) in California. I have hunted with other breeds my entire life. It has taken a lot of time, dogs, money, and real hunt testing for me to find the type of dogs that make the most effective hunters. I demand a lot from my dogs. If a dog does not hunt, IT WILL NOT STAY HERE (I dont care how pretty it is, the color or how famous the parents are) the dog has got to perform. My dogs are worked every week during hunting season, on various types of game. Most of these hunting pics were taken within walking distance of my house (not the boar hunts). I also drive for days to go hunting with my dogs in other states. If you are looking for baying terriers you are in the wrong place. Due to the rocky terrain, I need terriers that are going to go in, take a hold and draw the varmints from their dens. Most of the fox, coons, and bobcats in this area live in the rocks where the coyotes can't reach them.
My Dogos main purpose is hog catching, predator control, and Patterdale protection. The Dogos speed and endurance are a great advantage in the steep hills where I hog hunt. I have used several other types of catch dogs, and none could cover the steep hills and pack the punch the Dogo does once they get there. Most were so tired they were only good for one hog and had to be rested. It didn't matter how well I had conditioned the other breeds, they just were not up to running long distances in this terrain and holding a boar. I have had state permits to remove problem animals from golf courses, etc. The dogs are a must in areas where traps and poisons can not be used. I have used my dogs on hunting ranches for about 20 years now finding animals that have escaped the ranches, blood trailing wounded animals, and keeping varmints and predators off of the ranch property. None of these ranches allow hunters with dogs that we dont know. I also travel to Northern California and out of state to boar hunt where I have friends that are farmers and have problem boars that come in and destroy the crops.
I am always updating this site so come back soon.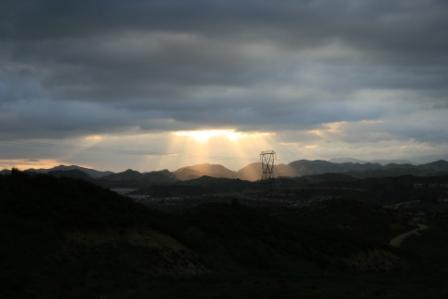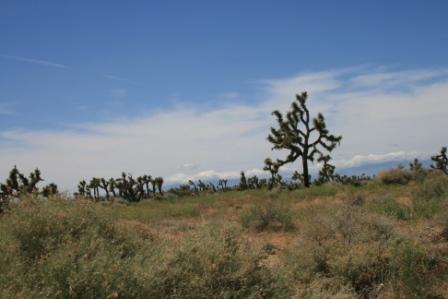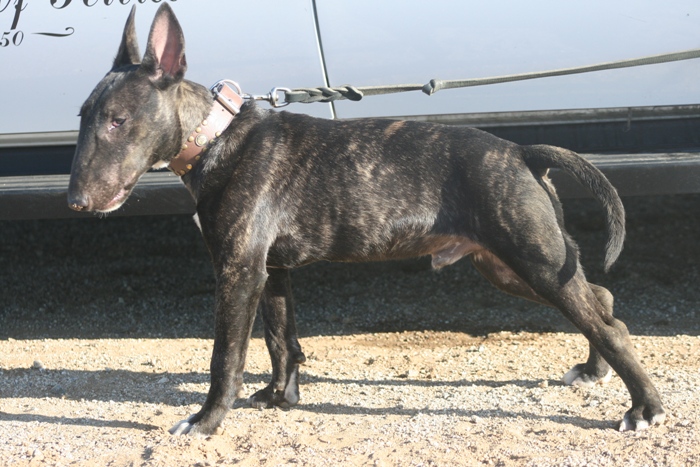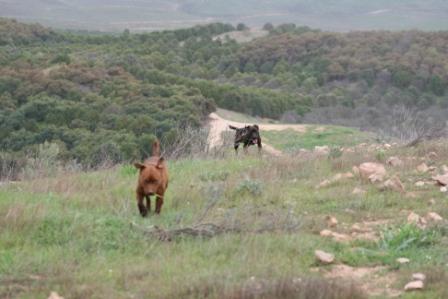 "Doba" and "Rocket" caught this little guy after he had escaped one of the ranches. I transported him back alive and released him.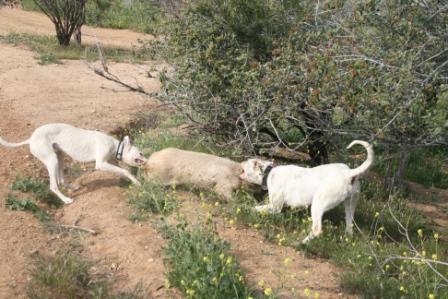 These guys love to see my dogs work.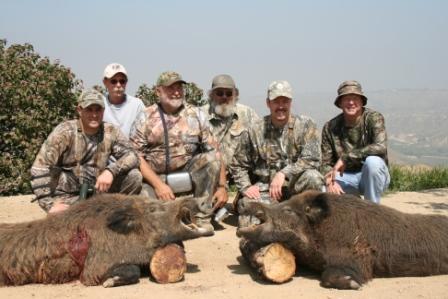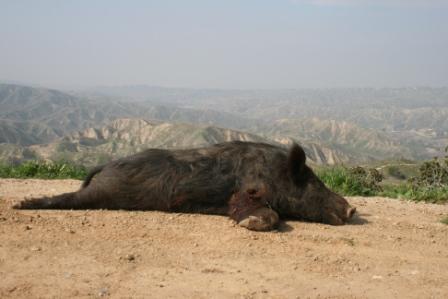 These hills will let you know what kind of shape your dogs are in.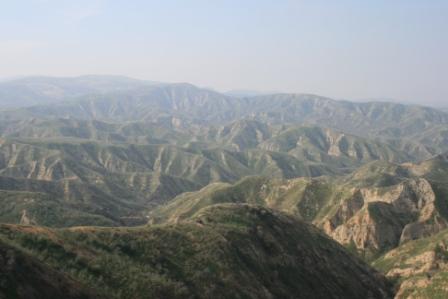 All of my dogs are expected to work in this terrain.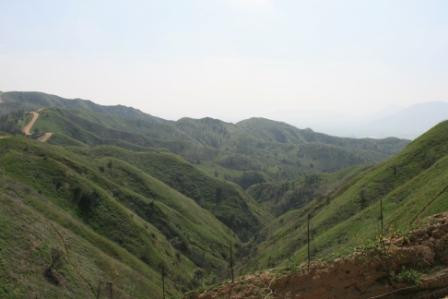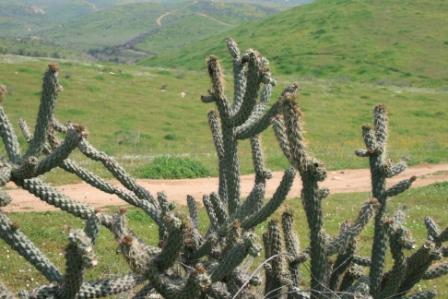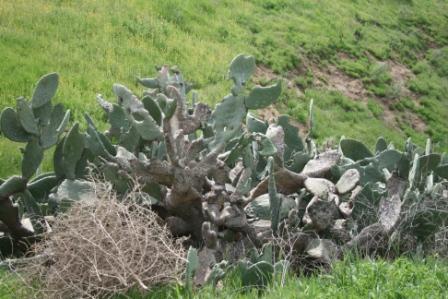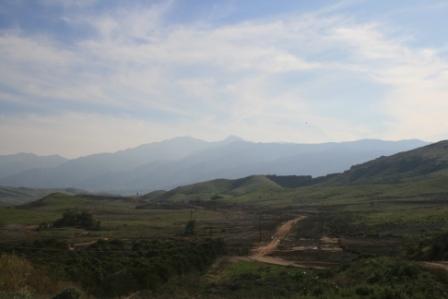 Slow or fat dogs can not run down russian boar in the hills I hunt in.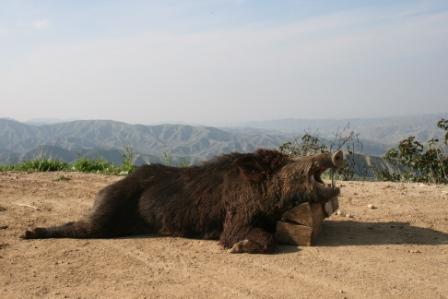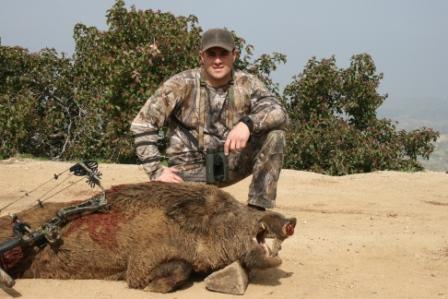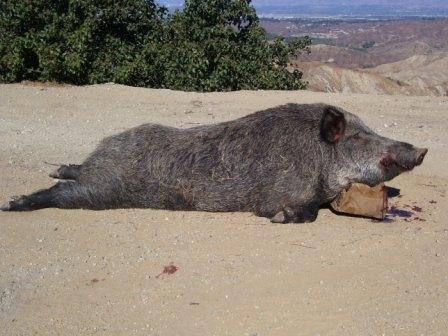 I have walked to the top of every mountain in this pic with my dogs.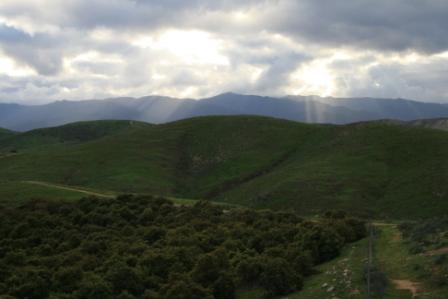 This terrain is hard on dogs.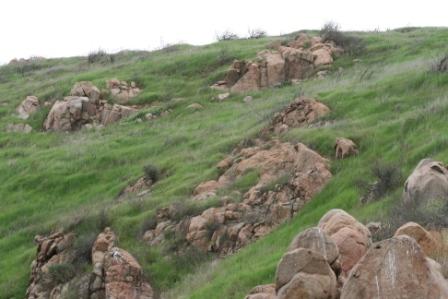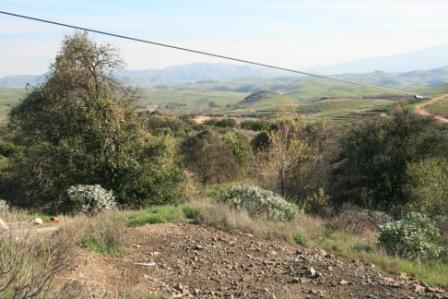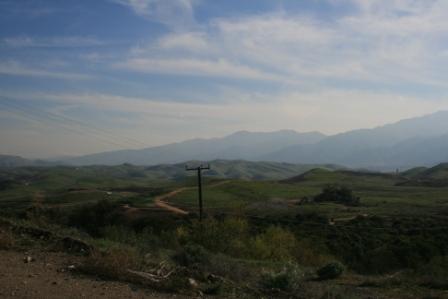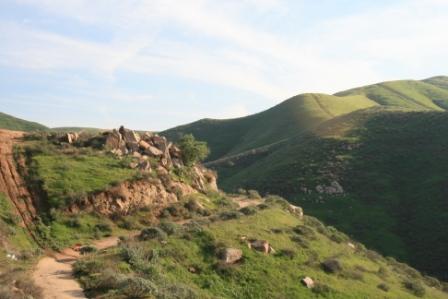 Just one varmint can do hundreds of dollars worth of damage to avocados and oranges.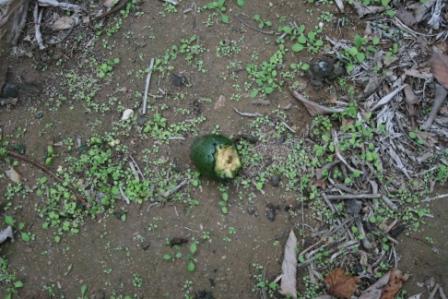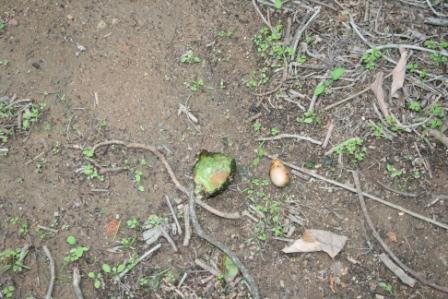 These orchards provide lots of food and water for all types of varmints.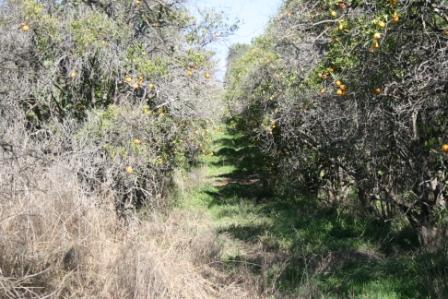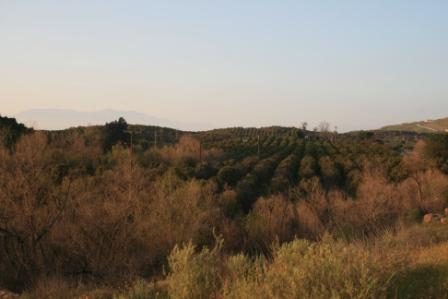 This thick cover is right next to the orchards.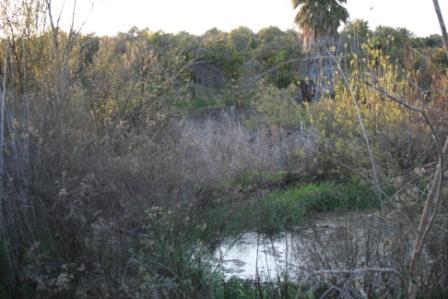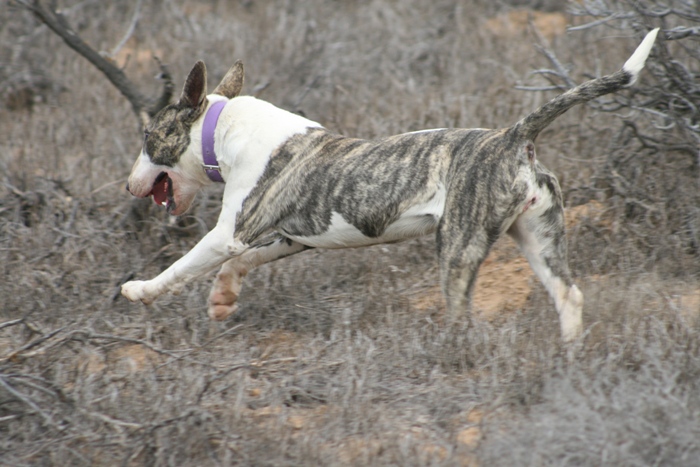 These pictures shows numerous oranges that will never make it to market because of varmints.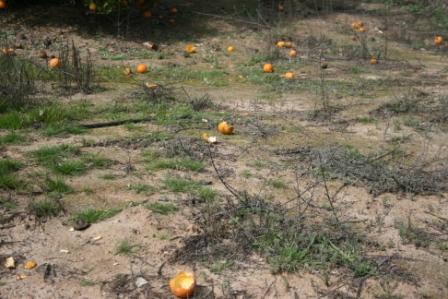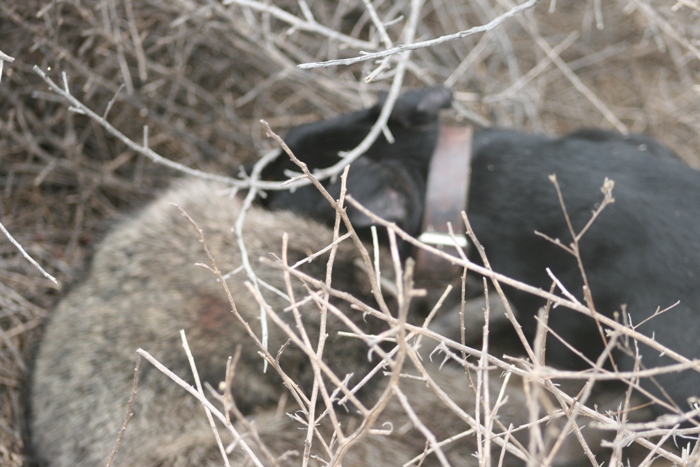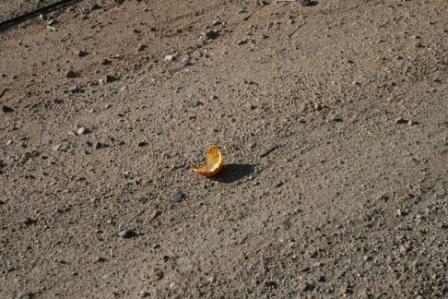 This is what the farmers end up with.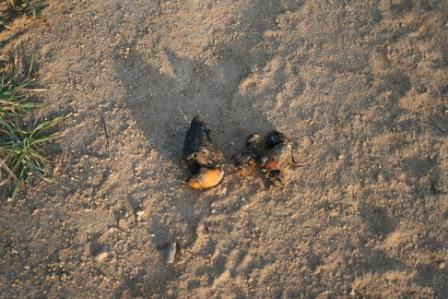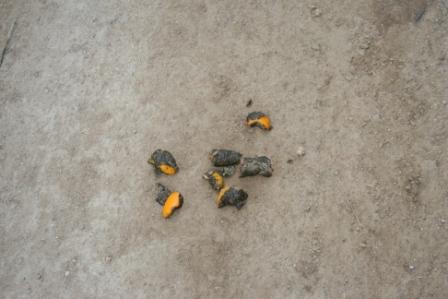 This road is full of varmint poop which has orange peels and seeds in it.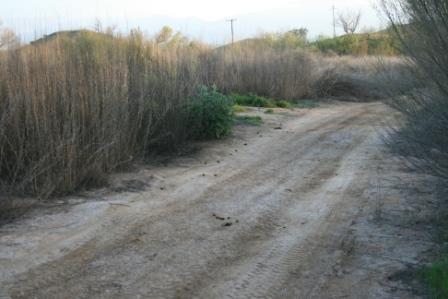 Another rock den.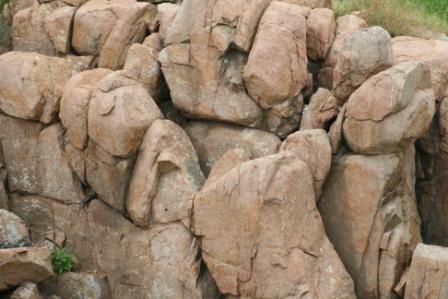 I saw a Bobcat run up this rock wall like it was flat ground.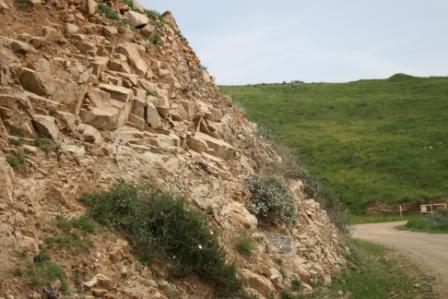 I tried to take a pic of a coyote that was standing near the rocks but he saw the Dogos comming and decided to leave in a hurry. I never saw him again.