News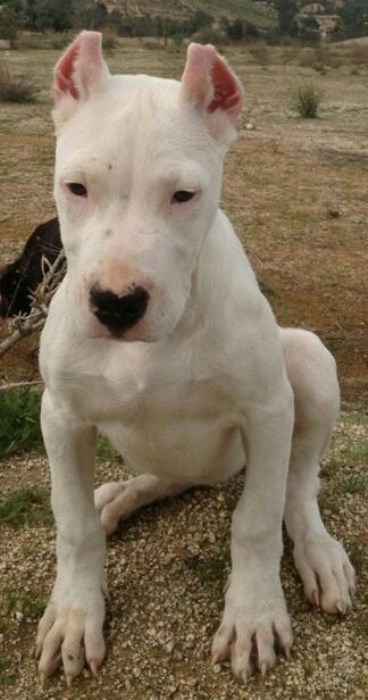 THE ARGENTINE DOGO IS BEING DESTROYED IN THIS COUNTRY. THE MAIN REASON IS THE PRICE. EVERY WEEK I SEARCH THE WEB THERE IS A NEW "DOGO BREEDER". I LIKE TO CALL THEM "DOG INVESTERS". THEY DID NOT BUY THESE DOGS OR START BREEDING THEM TO HUNT, AS A PET OR TO PRODUCE BETTER HUNTING DOGS. MANY OF THEM GOT THE DOGS BECAUSE THEY SEE THE DOGS AS A WAY TO MAKE MONEY. THEY WILL NEVER CULL ANY OF THE ONES THAT SHOULD BE CULLED. INSTEAD THEY SELL THEM AS "PET QUALITY FOR $1500+". THEIR SO CALLED "BREEDING QUALITY, OR SHOW QUALITY" WILL COST YOU $4,000 OR MORE FOR A PUPPY.
MANY OF THESE DOG INVESTERS HAVE A LOT OF MONEY AND THEY HAVE IMPORTED DOGS, FLOWN TO ARGENTINA AND HUNTED WITH DOGOS,ETC. THEY GO ON ONE HUNT AND GET A WEB SITE. THEY BECOME INSTANT EXPERTS. I HAVE GOTTEN MORE PHONE CALLS LATELY FROM THESE PEOPLE, ASKING IF I CAN TAKE THEM OUT WITH ME AND MY DOGS. ONE PERSON I TALKED TO WAS SELLING DOGO'S FOR $4,500!! A PUP..(HOW MUCH CULLING DO YOU THINK IS GOING ON THERE?) THIS PERSON SAID, "I DO NOT WANT TO HUNT I JUST WANT TO PUT MY DOGO'S ON A BOAR AND TAKE PICS, FOR A WEB SITE"..
WHAT THEY HAVE NOT REALIZED IS EVERY DOG AND BLOODLINE HAS CULLS NO MATTER HOW GOOD THE PARENTS ARE. SO IF YOU ARE GOING TO SPEND $4,000 ON A PUPPY AND THINK IT'S A GUARANTEED CATCH DOG YOU MAY BE IN FOR A BIG SURPRISE. YOU CAN BUY A LOT OF PITBULLS WITH $4000 AND A FEW AMERICAN BULLDOGS. I HAVE IMPORTED SEVERAL CULLS FROM SOME VERY WELL KNOWN PRODUCING PARENTS. THE DOGS LOOKED GREAT, IF I NEVER HUNTED THE DOGS I WOULD HAVE NEVER KNOWN I WAS FEEDING 90LB BAY DOGS...LOL...
I AM ALSO BEGINING TO SEE CROSSBRED DOGO'S BEING REGISTERED AS PURE BRED DOGO'S. MANY OF THESE PEOPLE HAVE ALL WHITE PITS ETC. AND FIGURE THEY CAN MAKE MORE MONEY BY CROSSING WITH DOGO'S AND CALLING THEM PURE BRED DOGO'S. I CAN CLEARLY SEE SOME THAT HAVE BEEN CROSSED WITH PITS, BULLIES, AND AMERICAN BULLDOGS.
I LOVE WORKING CROSSBREEDS, SOME OF THE BEST HUNTERS I HAVE SEEN WERE CROSS BRED DOGS. WHAT I DON'T LIKE IS PEOPLE NOT TELLING THE TRUTH ABOUT THE CROSS. I DID A CROSS MYSELF(ROCKET X DOGO). I COULD OF MADE A LOT MORE MONEY BREEDING MY PURE IMPORTED HUNTING DOGO'S IF IT WAS MONEY I WAS AFTER. THAT BREEDING WAS DONE FOR PERFORMANCE!!.
I REALIZED A LONG TIME AGO I WILL NEVER MAKE ANY MONEY BREEING AND SELLING DOGS. I PAY TO MUCH FOR DOGS AND CULL TO MANY.
SO A MESSAGE TO ALL YOU "DOGO INVESTERS".
NO I DO NOT WANT TO STUD MY DOGS TO YOURS.
NO I DO NOT WANT TO HUNT WITH YOU.